Roofing Repairs in Southampton
Whether you have a flat roof, pitched roof or require your chimney repointed, we can carry out your roofing repairs in Southampton.
You probably have never really given your roof much thought, it's there, it's in place and it keeps the weather out and hopefully the heat in. The only time most people give a thought about their properties roof is when you get a leak or some damp appearing in your home. Maybe you find a broken slate or tile on the ground, or can see some tiles have shifted or are missing, in the end these problems will need fixing or repairing to ensure your home stays weather proof and water tight.
Pitched Roof Repairs
Wether your pitched roof requires replacement of missing or cracked tiles / slates, or your roof requires a complete new set of roofing tiles, we can carry out your roofing repairs.
The most common pitched roof problems are:
Tiles/slates broken, missing or that have moved
This can be caused by severe weather, corroded nails or rotting of the battens they're attached to. Left unrepaired, this can allow water into the property and cause water damage.
Missing or broken ridge tiles
These are normally the results of adverse weather conditions or the mortar holding on the tiles has begun to crumble and needs replacing.
Chimney missing mortar
If you start to see the mortar inbetween the bricks on your chimney start reducing considerably or falling out so you can see clear gaps between the bricks, it's time to get your chimney repointed. Your chimney is at the highest point of your house, so it's open to all the elements the weather has to offer.
Blocked or cracked valleys
Blocked roof valleys are quite easy to clear and remove the offending debris. Cracked lead will need to be replaced for an effective long term repair which would last for around 40 years.
Build up of moss
If you are worried about moss on your roof, generally you needn't be worried. Apart from blocking up guttering and outlets, moss doesn't really pose a risk to your pitched roof.
Roof mortar missing
This will require all the old mortar being removed from the roof verge and the tiles being rebedded with new mortar to make it water tight.
In all pitched roof repairs, we will first come and assess your existing roof and recommend the most cost effective solution to repair or replace your existing roof to make it fully weather proof and fully repaired.
Flat Roof Repairs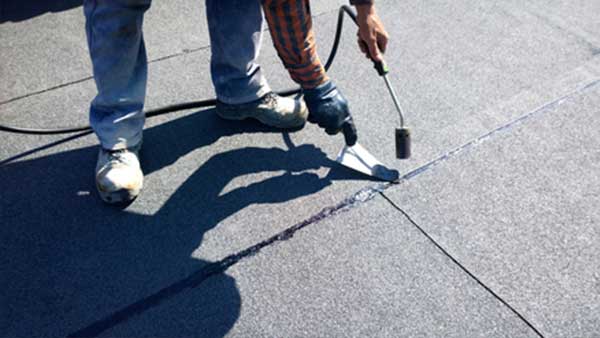 Flat roofs are commonly known to leak after a period of time, the first you will generally know you've got a leak is when you start seeing a damp patch in the ceiling of the room below. There can be many causes of a flat roof leaking, you may see ponding in the affected area with some plant growth, water can get through the joins in your roofing or even through the membranes that have become porous.
The common Felt flat roof usually has a life span of 10 to 20 years and there are now other alternatives such as EPDM (rubber roof) which has a lifespan of 30+ years, or G.R.P - fibreglass which has a lifespan of 30+ years.
Contact us today to replace or repair your flat roof.